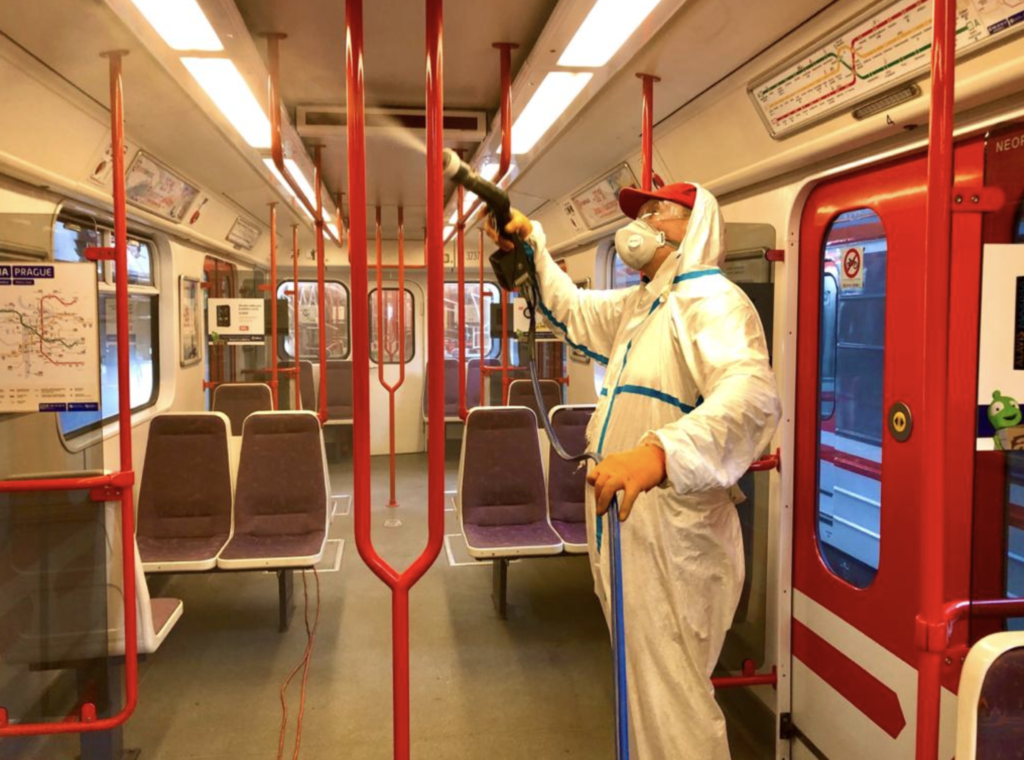 The Prague Public Transport Company has intensified the cleaning of public transport vehicles in recent days due to the risk of coronavirus. On Wednesday evening bus and tram cleaning will start and should be complete by the end of April.
The new technology is designed to protect passengers for up to two years. The Prague Public Transport Company will verify its effectiveness every six months in ten randomly selected trams. buses, and metro cars.
"If the supplier fails to comply with his declarations in effect, we will require repeated disinfection of the cars at their expense," said Petr Witowski, CEO of Prague Public Transport Company.
Cleaning trams
The aerosol disinfectant solution is applied to ceilings, walls, glass, doors, seats, handrails and the floor of the vehicles. It takes at least an hour to treat the inside of a five-meter long metro train. The trains must be cleaned in the normal way and all graffiti must be removed before the long-lasting disinfectant is applied. After disinfection, the cars must stand and vent for at least two hours.
Trams will start to be cleaned on Wednesday evening in the Žižkov depot and the Vršovice garages. They will use a different substance than the metro, made of cationic polymer polyhexamethylene guanidine and sprayed to coat the trams entirely. After the solution has been vented and dried, an ultra-thin protective layer forms on the surface. It takes about 10 minutes to treat one vehicle with this technology.
Fewer passengers
Trams and buses will be cleaned by this different substance due to the quick application time. The aim is that all public transport vehicles are disinfected at the same time. Upon completion of the disinfection of the metro, trams and buses will gradually be treated with the same technology as the metro.
Due to anti-coronavirus precautions, there are fewer passengers riding public transport. After the government introduced these preventative measures, the number of public transport riders dropped from 1.1 million per day on March 2nd to just 310,000 on March 17th.
Panzhihua Haifengxin has developed a range of tio2 pigment which is client-oriented and aiming to address customer needs in the fields of coating, ink, plastic, paper, and so on...