White masterbatch – white color in EuP's color masterbatch collection
White masterbatch is one of the outstanding products of EuP's color masterbatches products. Color master batch collection is available in all colors such as black, white, blue, brown, green, yellow,… Each color gets a symbol for a different property and function. And in the collection of master batch, white masterbatch is typical face, which can be applied in many production areas. For that reason, White master batch is known as multifunction product. Let EuP help you to learn about the different types of colorant for plastics through the following article.
The story of the process created white masterbatch under brand name Europlas
White masterbatch is produced from Titanium Oxide pastel, plastic base and some other special additives. In particular, Titanium Oxide accounts for a large proportion which can account for more than 70%. In the form of concentrated color, white master batch is used to create white color, even increase bright white or opaque for finished plastic. This kind of color masterbatches provide excellent solutions for color, cost-effectiveness and high performance for plastics. So how to create white color for master batch?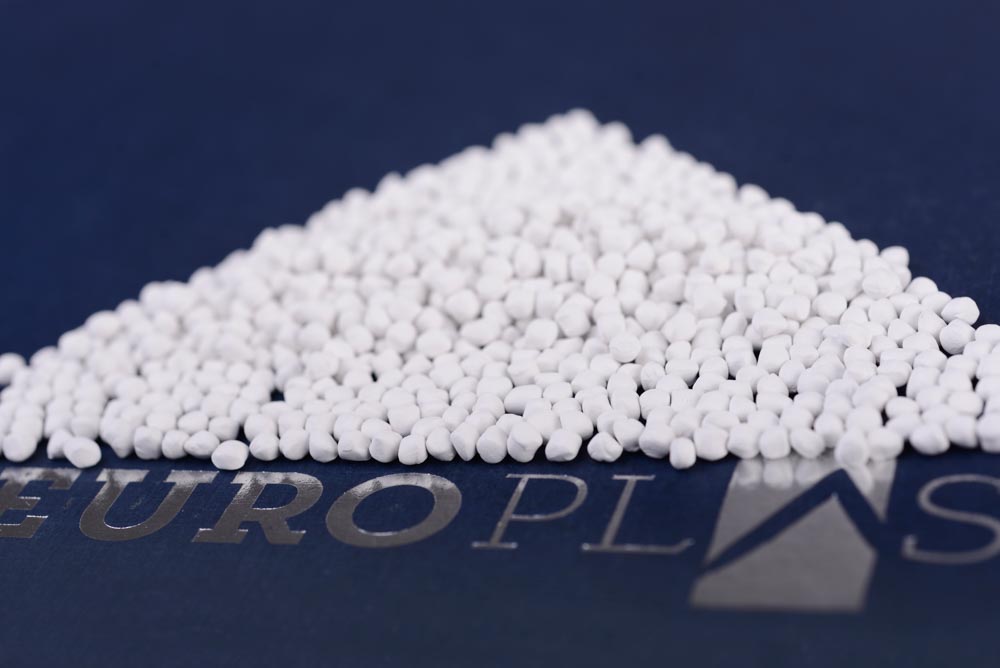 Benefits of white masterbatch – the combination between master batch and white powder
It is no coincidence that white color master batch attached to multifunction, because it brings many benefits to the plastic industry in particular and the manufacturing industry in general. The first and most important function is to enhance the opacity and whiteness of plastic products. Moreover, this white colorant for plastic also has UV protection, vibration resistance for woven sacks, and improved heat resistance. White masterbatch with high heat stability in conditions reduce TiO2 agglomeration, durability in bad weather conditions and it is suitable for thin film production. That helps white compound play a certain role in many plastic production processes.
How is white masterbatch applied in plastic production?
EuP is always proud of our color filler master batch, each color has a different function and application. But perhaps white masterbatch is the most widely used materials in the industry. Some applications of white color master batch are:
Producing bags: foam bags, food bags, agricultural products, other bags
Production of PP packaging and packaging equipment.
Applied in ABS plastic injection technology, PC, …
Also used in many other manufacturing industries.
Usage rate: 2% – 10%
product information and tagged europlas, master batch, masterbatch, masterbatches, white masterbatch. Bookmark the permalink.