The New Year's bell will ring in a few days, for people involved in the tio2 business we all acknowledge that the year 2022 will kick off amid rising prices like blossoms of fireworks and waning demand like snowfall. In the past weeks of Dec., a large portion of tio2 manufacturers worldwide announced price hikes, they are industry barons like Chemours, Tronox, Venator, LB Group, Kronos, Ishihara, and many other names I won't recount here.
Of one thing there is no doubt, stocks at low level make it comprehensible at leading manufacturers in China to increase price in sync with western peers. Admittedly, for several other manufacturers these notices work like a charm addressing annoying problems of mounting stock they were facing.  December is theatrical for tio2 in China as market in the earlier month felt uneasy about future trend and voices were loud that price would plunge on the prospect for shrinking demand at home market, sentiment of this sort intensified over news of obligation defaults of real estate giants like Evergrande, Fantasia, Kaisa Group, etc., as knock-on effect, their material suppliers such as paints and plastic producers who are also core clients of tio2 manufacturers, are meant to be caught tangled. But with government set to mitigate social worries and take approaches to help and constrain their once was unbridled self-salvation, panics on tio2 market are largely pacified. And notices of western producers helped boost export sales significantly.
Uncertainties with future TiO2 market also lie in fallout of environmental control policy set for upcoming Winter Olympic Games in Feb. of 2022 and the foremost events as NPC (National People's Congress) and CPPCC (Chinese People's Political Consultative Conference)in next Mar. According to a document issued by China's Ministry of Ecology and Environment on 29 Oct., heavy industry production is ordered to halt partially or completely in Tianjin, the neighboring city of Beijing, and other cities in northern provinces including Shanxi, Hebei, Henan and Shandong, from 01 Oct. to Mar. 31, 2021. In the listed names we found some were connected with tio2 industry with details as below: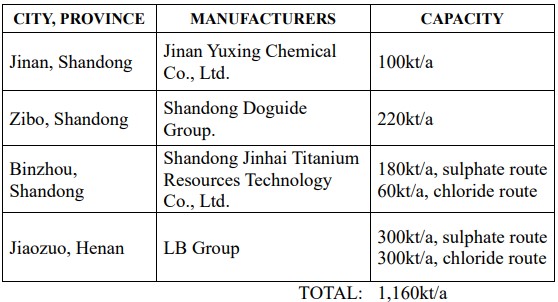 The above form shows that more than one quarter of China's tio2 capacity will be suffered from the growing implementation of policy, but severity of impact is still uncertain now and can only manifest itself in Q1 of 2022. Yet most of the tio2 produced in the north are virtually consumed in the south that is out of the affected area, should the policy impact tio2 and its downstream industries symmetrically? In the mean time, since the above mentioned four manufacturers are playing major roles on overseas market as leading suppliers of China origin tio2 with export volumes in total account for more than 40% of China's exports, shortage of supply on overseas market might be perceptible in Feb, 2022.
At the risk of being repetitive, I would say that persistent logistics difficulties such as short supply of containers, port congestions and deferred ETD will be recurring in Q1 coupled with Spring Festival travel rush between 17 Jan. and 25 Feb. make export business tricky for Chinese sellers. Usually, the interprovincial road transportation will grind to halt ten days before new year eve and resume ultimately after the first 15 days of new year. All of these will weigh on supply chain, knowing ahead and planning ahead are of no less importance than price negotiation for buyers abroad.
Last but not the least, Covid-19 flareups will add headwinds facing supply chain. Xi'an, a city of 13 million people in central China, entered lockdown on Wed. following COVID-19 spike. Lockdowns and shutdowns are universal practices for cities to struggle against Covid-19 spread in the event that persistent infection cases being reported in one area. At the beginning of Dec., lockdown on Zhenhai Dist., Ningbo led to a temporary production halt at one tio2 plant there. Pandemic-induced lockdown can hit the entire chain frightfully from supply to demand, it poses the biggest risk given it is unpredictable at all.
Another COVID year is coming to an end, it's hard to tell if & when there'll be an "end" date to COVID, but there's never a wrong time to start the new year with positivity and well wishes! May all the best wishes come true in 2022!
As manufacturer, Panzhihua Haifengxin has developed a range of tio2 pigment which is client-oriented and aiming to address customer needs in the fields of coating, ink, plastic, paper, and so on.